Catalogue Number: ID262
Isosorbide-2-mononitrate
1,4:3,6-Dianhydro-D-glucitol 2-nitrate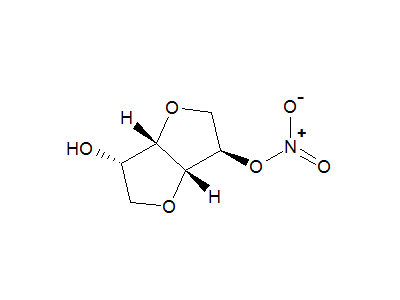 CAS Number

16106-20-0

Molecular Formula

C6H9NO6

Molecular Weight

191.14

Chemical Purity

Min. 98% [1H-NMR]

Appearance

White Amorphous Solid

Solubility

DCM, DMF, DMSO, MeOH
SDS

SDS PDF

(New Window)

Search for COA

DSL Status (Canada)

None

TSCA Certification (United States)

Negative Certification

RTECS Number

LZ4385500
Storage

Store at 0 to 8 °C.

Shipping Conditions

Ambient Temperature

Tariff Code (United States)

2932999090

UN Number

UN1325

Proper Shipping Name

Flammable solids, organic, n.o.s. (Isosorbide-2-mononitrate)

Hazard Class

4.1

Packing Group

III

Exempted Quantity

1g packages, up to 100g per shipment
Signal Word

Danger

Pictogram
GHS Classification

Flammable Solids (Category 1)

Hazard Statements

H228: Flammable solid

Precautionary Statements

P210: Keep away from heat, hot surfaces, sparks, open flames and other ignition sources. No smoking.
P240: Ground/bond container and receiving equipment.
P241: Use explosion-proof electrical/ventilating/lighting/equipment.
P280: Wear protective gloves/protective clothing/eye protection/face protection.
P370 + P378: In case of fire: Use dry chemical, foam, water spray carbon dioxide for extinction.
IUPAC Name
[(3R,3aR,6S,6aS)-3-hydroxy-2,3,3a,5,6,6a-hexahydrofuro[3,2-b]furan-6-yl] nitrate
InChI
InChI=1S/C6H9NO6/c8-3-1-11-6-4(13-7(9)10)2-12-5(3)6/h3-6,8H,1-2H2/t3-,4+,5-,6-/m1/s1
InChI Key
YWXYYJSYQOXTPL-JGWLITMVSA-N
Smiles
[N+](=O)(O[C@H]1CO[C@H]2[C@@H]1OC[C@H]2O)[O-]